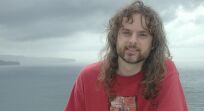 GSU is hosting a lecture on "Terminological Disputes and Philosophical Progress" by
David Chalmers
(Australian National University), hosted by the Department of Philosophy on Friday, April 27th at 11:30 in Troy Moore Library.
You should not miss this lecture.


David Chalmers is unquestionably the most influential philosopher of mind of his generation. He is the author of The Conscious Mind (1996), where he controversially argued that consciousness cannot be fully explained in terms of physical processes. This makes Chalmers a modern day dualist, but one who is empirically informed, and interested in engaging in a dialogue with scientists of mind. For an informal introduction to Professor Chalmers* influential views on consciousness, you can listen to this radio interview:
http://philosophytalk.org/pastShows/Consciousness.htm
.
See also: See also:
http://en.wikipedia.org/wiki/David_Chalmers